What matters most to life sciences professionals?

The life sciences industry thrives on talented, highly skilled professionals. There is a high demand for candidates with niche skillsets and specialist expertise on a global scale.
The recruitment market has evolved, and high demand candidates often have multiple companies vying for their services. How can
biotechnology,
pharmaceutical
, medical devices, CRO and other life sciences businesses ensure that their job offers are competitive within the market? How can life sciences businesses, from start-ups, SME's right through to global enterprise leaders ensure their job offers and benefit packages meet the demand candidates are looking for?
We asked the candidates
We surveyed 1238 life sciences professionals, asking them to rank the core job motivators that are most important to them. The options given were:
Flexible Hours
Working from Home
Company Reputation
Career Progression and leadership
Ability to work on an exciting project
Salary
Location
Other
The results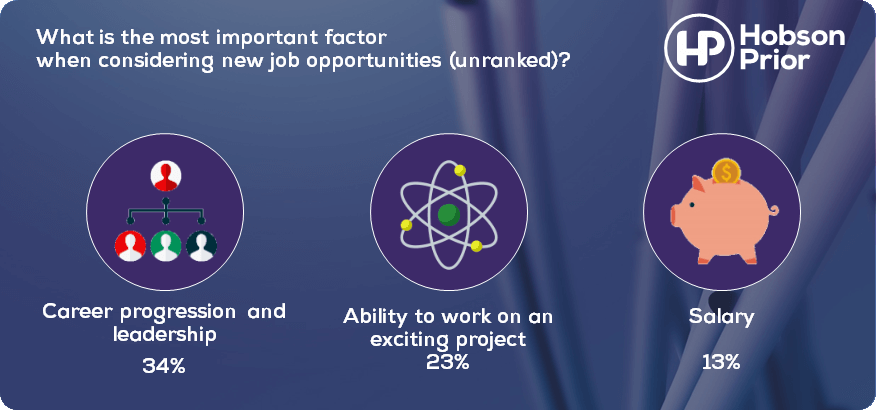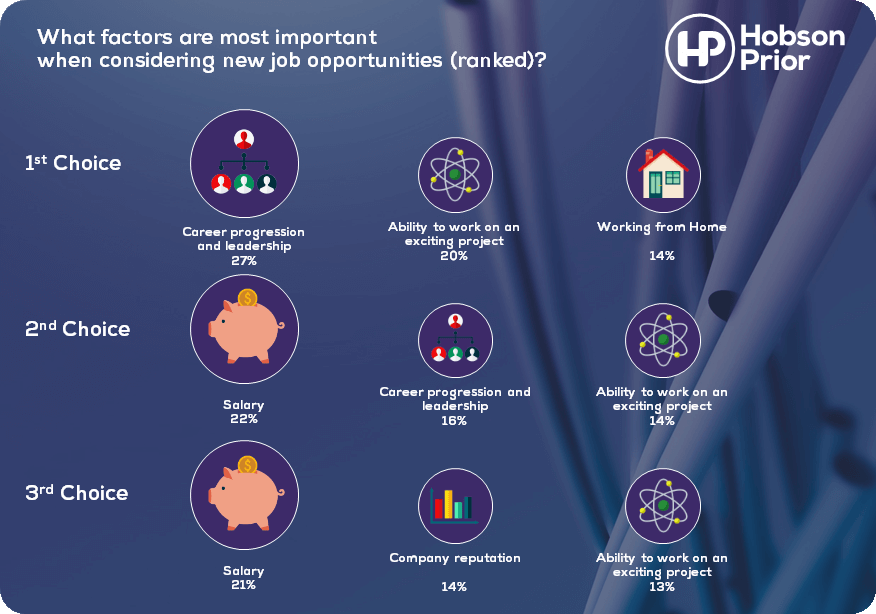 What job motivator is the most important to you?
Career Progression and leadership - 34%
Ability to work on an exciting project - 23%
Salary - 13%
Ranked responses:


Key Takeaways
Think of their career journey
Across practically every category split within the survey, "Career progression and leadership" was most frequently ranked as the number one core motivator.
This implies that the majority of candidates are looking to climb the career ladder and want to see growth in their job title and responsibility when considering moving into a new role. The vast majority of those surveyed have over 10 years' experience in the industry (58%), potentially highlighting that established professionals are looking to join a company at a leadership level that matches their credentials.
With that in mind, it is important that companies highlight the career opportunities, growth and leadership impact of their vacancies in their job descriptions and offers.
For lower seniority roles – These candidates are likely looking to progress so highlight the career development or training available through your vacancies. What are the potential internal career paths in your business? What projects have previous hires gone on to lead? Focus on the growth potential of the role in aiding their career.
For high seniority roles – Often, in senior leadership, professionals can plateau within their company hierarchy. For example, if a business already has a head of biostatistics or director of regulatory affairs, then highly skilled professionals may find themselves stuck until their superiors move on. Perhaps you can offer these positions or create new leadership opportunities to fill this void – this is especially useful for smaller businesses to promote to top talent as a chance to take a leading role.


Salary is still core
Unsurprisingly, "Salary" featured as one of the most important features of a job offer, often receiving a majority across second and third ranks. However, the way salary was ranked may reflect how many candidates find discussing salary expectations uncomfortable – a common theme our recruiters experience.
When asked to choose just one motivator, salary was the 4th popular option (13%), yet when asked to rank the most important motivators, salary consistently appeared as either the 2nd or 3rd most important factor for most candidates, by a comparatively staggering margin. This boosted the scoring for salary to be the joint highest ranked option on average.
Whether through humility or other reasons, this disconnection between salary being highly ranked, but rarely given the top spot, might suggest candidates may downplay how core salary is to an opportunity. Ultimately, salary has a leading role in determining a candidate's decision to accept or reject an offer and is a common complaint amongst Talent Acquisition teams where undisclosed salary expectations can derail an outstanding interview process.
Knowing the salary expectations and market standards for a competitive salary is important to attract talented individuals, who know the value of their skills. Whilst a lower salary offering may be boosted with benefits and leadership opportunities, it is important to be offering a reasonable remuneration.
As a core aspect of recruitment, Hobson Prior produce salary benchmarking reports for our clients to aid in their talent acquisition.For salary benchmarking regarding specific job titles and locations, contact the Hobson Prior team.


Increase in flexibility
Demands for more flexible work/life balance have been increasing amongst candidates for several years, although the market has been slow to adopt some of these perks.
With many experienced candidates needing to balance family responsibilities, it is no surprise that "Flexible Hours" and "Working from Home" were highly ranked, specifically in biometrics and regulatory affairs.
Many companies have adapted some form of flexibility in response to the global pandemic. With workers having a chance to experience working from home, perhaps some will not want to return to being in the workplace full time, which may have impacted the popularity of these options in the survey.
The ability to work form home when expecting a delivery, help with child care responsibilities or even leave early to take a parent to a hospital appointment, understanding your potential employee's need for work/life balance can set you apart as an employer.


Company culture and vision are key
Something we consistently find within life sciences recruitment, which is supported by this survey's result, is that professionals in the life sciences community take pride on working on projects and with companies that are actively making a difference.
"Ability to work on an exciting project" consistently features in candidates first 2 rankings as a core motivator. Effectively highlighting your company's visions and impact on improving patient solutions and scientific innovation is an impactful way to inspire candidates to want to be part of your team.
This is particularly key for smaller companies. Establishing your company's mission and culture allows your business to stand out against global industry leaders. Whether it's delivering an orphan drug to target specific diseases, developing new technology that makes treatments simpler or producing trialled and tested medications that patients rely on can really help to inspire the purpose behind your business and encourage professionals to want to be part of that vision.


Relocation is possible
A frequent issue life sciences companies find is that while some locations are best suited for their labs and offices, these places are not necessarily accessible to the top talent they need. As life sciences becomes a more global market, companies can widen their searches for talented professionals on an international level.
There may be an assumption that finding talented professionals that are willing to relocate may be difficult. However, "Location" rarely appeared in candidates top 3 rankings for priorities in the survey. In fact, generally, location consistently appeared towards the middle and lower rankings out of the 8 options we gave.
Similarly, when asked if salary or benefits would encourage them to consider relocation 61% and 58% (respectively) answered "Yes".
The biggest concern raised amongst candidates is that they would need to know that there is support and a good quality of life/opportunities. Many raised the importance of knowing there would be opportunities for their spouses and children if they relocated. Providing information and support with understanding the local customs, schooling, taxation, housing and migration processes etc. can be a useful way to ensure potential candidates are aware and excited to prepared for the opportunity of moving to a new location.