Brexits impact on life sciences professionals

Brexit and the life sciences industry
As the United Kingdom approaches the agreed deadline for their departure from the European Union, there is still much uncertainty surrounding Brexit and how it will affect the life sciences industry.
The European Medicine's Agency has officially begun operating from Amsterdam, after leaving its London office on 1st March. Many pharmaceutical companies have stockpiled medicines, anticipating delays and bottlenecks in customs when Brexit comes into effect. The industry has worked hard to ensure patient access to healthcare is minimally impacted, regardless of the type of deal the UK and EU decide.
Voices from the industry
To better understand how the industry is preparing for Brexit, we wanted to hear the views from those who work across the life sciences industry. We asked 1,281 candidates and clients to take part in our survey to collect a better understanding of how the attitudes, values and future plans will potentially be impacted for people in our industry.
We are happy to announce the release of "Brexit's Impact on life sciences professionals" by Hobson Prior. Focusing on career opportunities and industry impact, this report is an overview of the opinions and voices of those working within the industry and how they anticipate Brexit to affect their jobs, mobility and opportunities.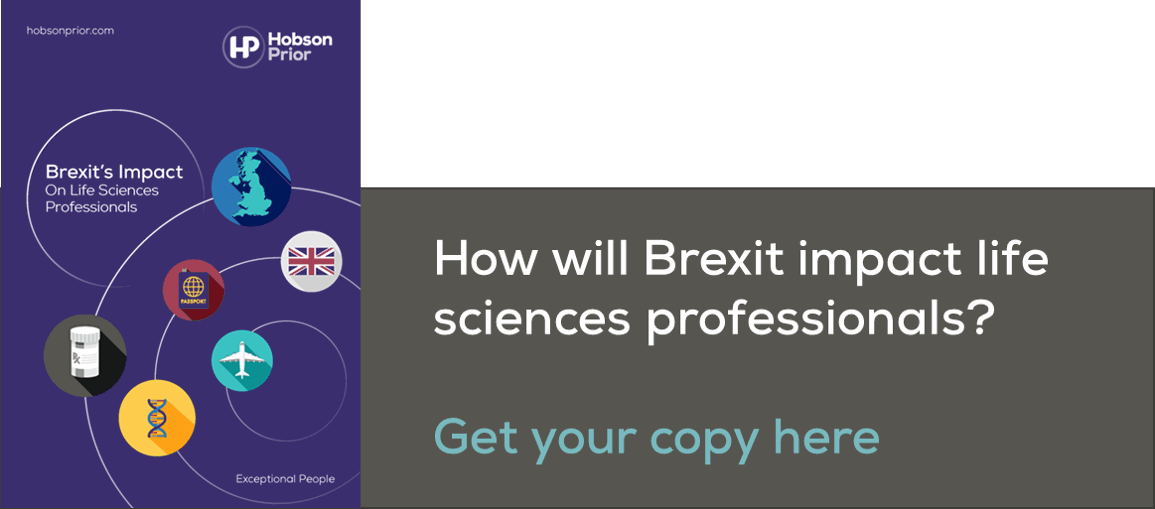 Here are some key highlights from the report:
72% of life sciences professional based in the UK anticipate Brexit will have a negative impact on their sector


62% of life sciences professional based in the EU see no impact on their career opportunities


63% EU-based life sciences professionals would be unlikely to consider work in the UK after Brexit
In this report, we also captured some of the opinions of those working within the life sciences industry to highlight some of the neutral, negative and positive responses to the developments of Brexit and the life sciences.
"I will have to compete with people already have the freedom to work and live in the EU. I cannot see why hiring managers will make more work for themselves." EU-based specialist senior programmer


"I think this industry will have plenty of opportunity for growth once the uncertainty settles and we are set on a fixed path." UK-based clinical safety manager
About the survey
Understanding the developments within our industry and the motivations of our candidates and clients is crucial to our success as life sciences recruiters. This quest for knowledge is the motivation behind this Brexit study.
As a leading life sciences recruitment consultancy, Hobson Prior is committed to connecting the best candidates to the projects and jobs that need them. Our unique and focused approach has enabled us to develop long-term, trust-based relationships with our candidates and clients.
If you'd like to discuss the report, your company's staffing requirements or your personal career opportunities with us, please do not hesitate to get in touch with our recruitment experts.