Why are there so many pharmaceutical companies in Switzerland?

Switzerland is one of the most popular places for a pharmaceutical company to establish a new site. Global industry leading companies including Roche, Novartis, Merck and Celgene have a large presence within Switzerland and there is continued interest from international biotech and pharma companies, particularly from the US, to open new sites within the country. Over 40 new biotechs and pharma companies established themselves in there in 2019, so why are so many pharmaceutical companies in Switzerland?
Why are European pharma companies concentrated in Switzerland?
Switzerland's relationship with Europe
Over a third of Swiss exports come from the pharmaceutical and life sciences industry and the territory has established itself as a leading hub for life sciences development within Europe.
With over 250 pharmaceutical and biotechnology companies based across Basel, Zurich, Geneva and other core cities in Switzerland, there is already a proven and well-resourced access to talent, resources, funding and clinical development within the country. Similarly, being geographically close to other leading life sciences hubs within Germany, France and Italy provides Switzerland a very beneficial position to expand a life sciences business.
Switzerland and the EU and EMA
Switzerland is not a member of the EU or the EEA (European Economic Area), but maintains a confidentiality agreement with the European Commission and European Medicines Agency (EMA) through the Swiss Agency for Therapeutic Products (Swissmedic). Similarly, the sovereign state maintains a strong connection to the European Union with a mutual recognition agreement (MRA) for good manufacturing practice (GMP) compliance, as well as strong ties to the FDA.
This unique political and commercial position can be advantageous for pharmaceutical companies to have a presence in this booming market that has more financial and political freedom, whilst ensuring strong connections to the EMA and FDA global markets.
Top life sciences talent from Switzerland
A core consideration for any site selection is ease of accessibility to top talent within the industry; ultimately, it is a strong workforce that drives success in pharma.
Attraction and retention of talented professionals relies on the appeal of the country and its cities, the quality of life and understanding of local customs and employment laws.
Whilst it is difficult to quantify analysis for employee potential and happiness in their environment, Switzerland ranks highly across numerous studies in workforce satisfaction and quality of life, meaning that plenty of people are looking for jobs in the pharmaceutical industry.
Switzerland and access to talent
Switzerland has consistently ranked highly in the Global Talent Competitiveness Index (GTCI), which measures and ranks countries based on their ability to grow, attract and retain talent. Switzerland was ranked first place in the GTCI 2020, with notably high rankings in employee retention, enabling employees' development and encouraging personal growth. With a particular focus on how AI and adoption of technology have impacted the index in 2020, Switzerland's high ranking demonstrates a promising consideration of innovation alongside talent attraction and business development
Similarly, the country ranks highly for many aspects of workforce skills in the World Economic Forum Global Competitiveness report 2019, with 1st place rankings in extent of staff training, quality of vocational training and skillsets of graduates. Switzerland is also home to 4 out of 100 of the Times Higher Education top 100 universities worldwide, with 7 in the top 200 universities, promoting Switzerland's reputation for education and research. Strong performance in these areas highlights the promising growth Switzerland has in attracting top talent internationally, as well as producing skilled workers within its education system and employee development.
Switzerland and quality of life for employees
Switzerland scores highly in employee retention on the GTCI 2020, suggesting a satisfactory lifestyle provided for potential employees. This is further supported by Zurich's position as 2ndGeneva as 9th and Basel as 10th globally on the Mercer Quality of Living Index 2020, which reviews quality of living standards in line with typical compensation packages.
The combination of all these factors, alongside the proximity to other leading life sciences hubs in Germany and France, suggest Switzerland can be a highly beneficial place for skilled professionals to establish their career in biometrics and pharma, enabling Swiss based pharmaceutical companies access to talented individuals, at a local level, across a range of specialist fields.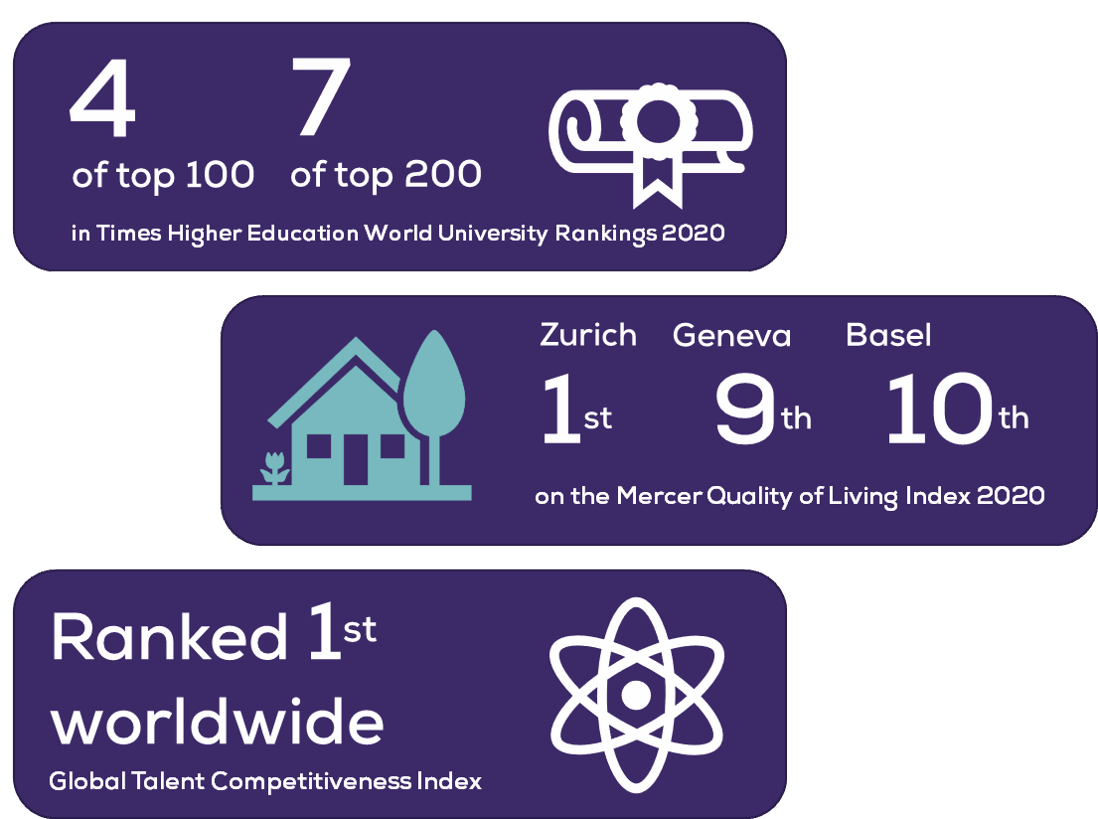 "Practically all the specialist life sciences candidates we work with are aware of Switzerland's appeal within the industry. There is no shortage of talented professionals already based or looking to locate to the vicinity so there is often a surplus of viable candidates." Matthew Vickers, Principal Consultant for Swiss Clinical recruitment at Hobson Prior.





"In fact, it is often more difficult for the companies we work with to compete for the attention of this talent, particularly if they don't know the swiss recruitment system."
Switzerland's investment in R&D
With biotechnology and pharma making up 40% of Swiss exports, Switzerland has the largest export surplus of pharmaceutical products worldwide, producing 88.4 CHF billion in pharmaceutical industry exports in 2019. It is no surprise that Switzerland invests heavily in its research and development schemes to ensure continued growth and innovation.
Around 7,000,000,000 CHF was invested into R&D from Swiss pharma companies in 2018, with continued investment and innovation across the pharma and biotech spaces within Switzerland. This led to the development of multiple new start-ups as Switzerland continues to continue to build its life sciences industry. As a core industry, the country is very supportive of its innovators.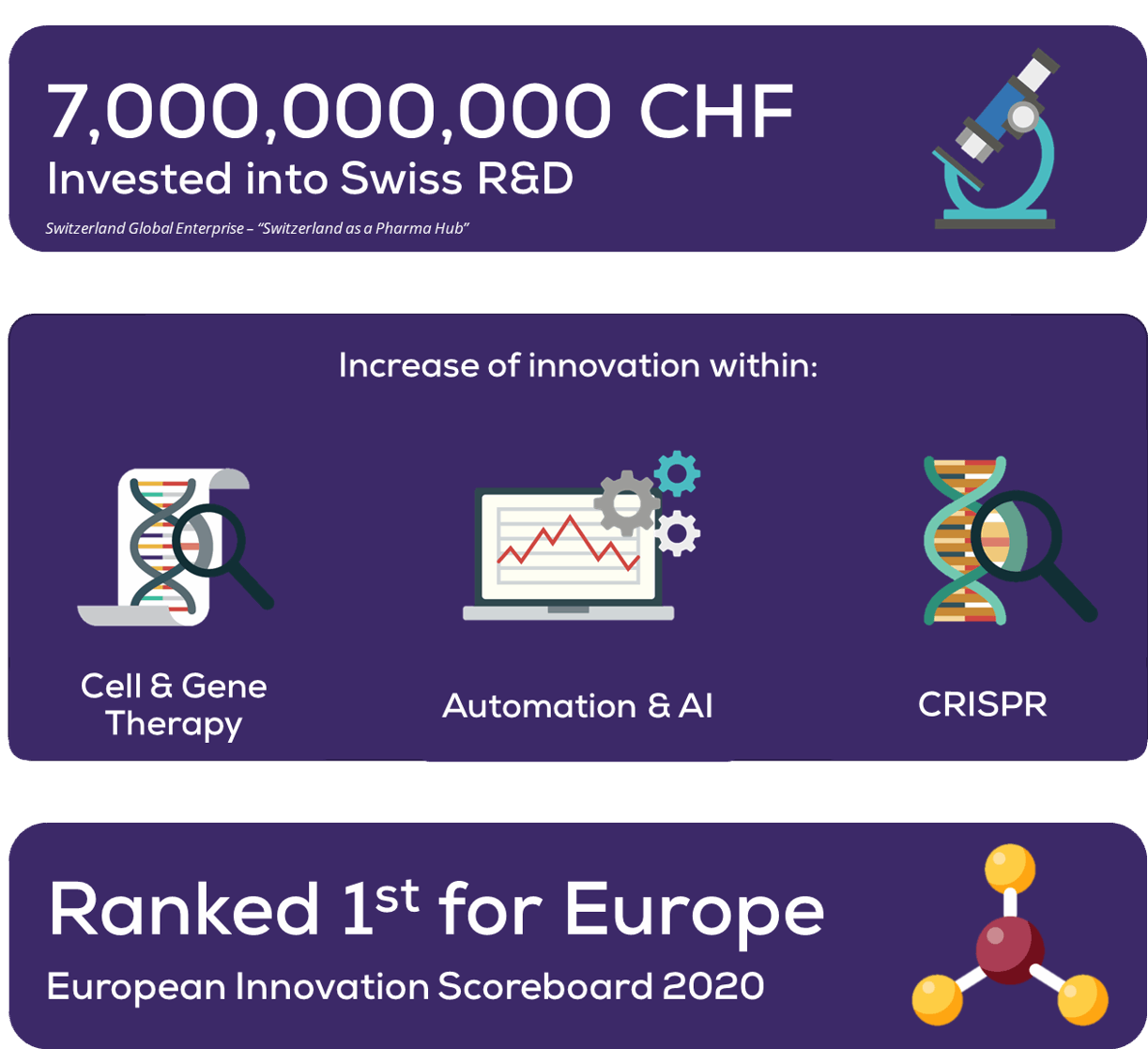 Switzerland and innovation
Switzerland ranked number 1 against EU countries on the in European Innovation Scoreboard 2020, which assesses the relative strengths and weaknesses of national innovation systems within the EU and neighbouring countries. With Switzerland globally renowned for life sciences innovation, the pharma industry is likely to have contributed significantly to this.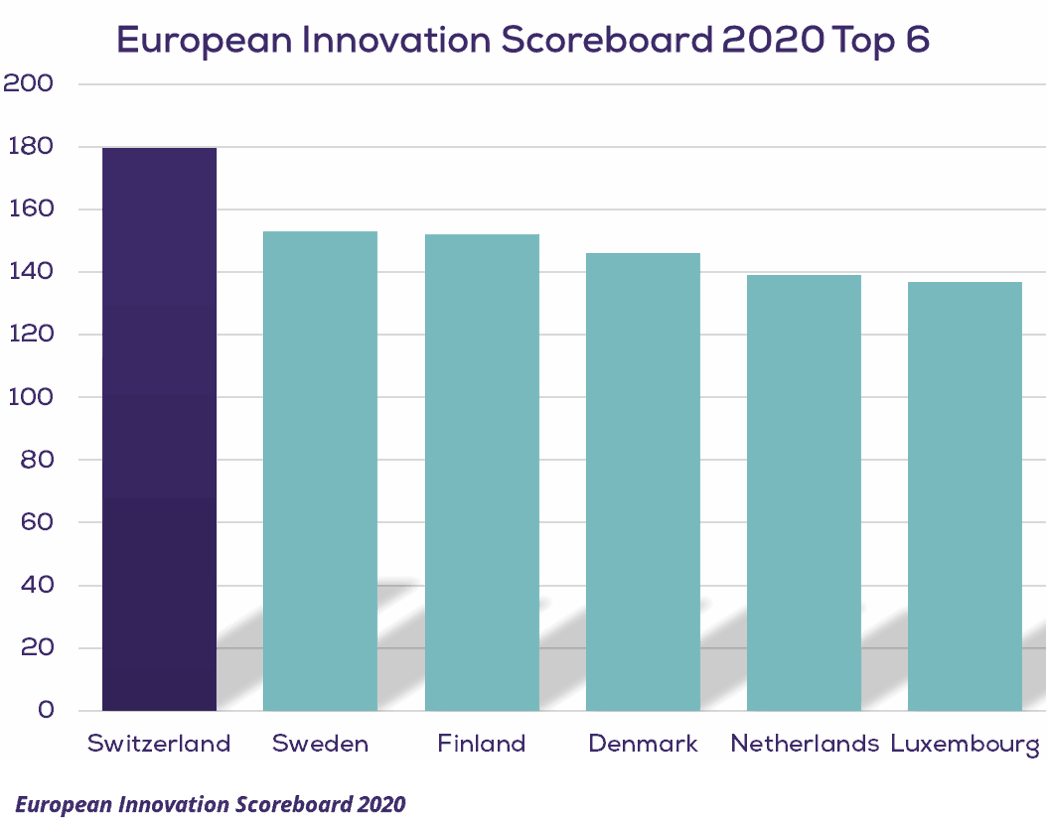 For life sciences, Switzerland's commitment to funding innovative ideas provides a great advantage for pharma development. The registration process for obtaining a license for a new pharmaceutical product from the Swiss Agency for Therapeutic Products is one of the fastest in the world and with one of the most sophisticated healthcare systems, it lends itself to efficient pharmaceutical development and clinical testing.
With leading biotechs specialising in new technological advancements such as cell and gene therapy, CRISPR and AI integration across the life sciences, the country's influence in life sciences is visible on a global scale. With a landscape centred on innovation and scientific development, many pharma companies enjoy the benefits of being based there.
Switzerland and future stability
Through investment in innovation, Switzerland ranks highly across core areas of future development and readiness for changes and advancements within the life sciences industry and across the global business outlook:
Whilst the future is never fully certain, with strong investment and dedication to promoting its life sciences, Switzerland appears to be at the height of pharmaceutical development and with no plans to slow down.

Switzerland as an international investment
Overall, there are various reasons impacting a pharmaceutical company's decision for a site location and Switzerland has established itself as a proven global leader in many of these aspects, including talent attraction, investment into innovation and pharmaceutical success.
With a large focus on the life sciences and pharma as a core export, it is unsurprising to see so many talented professionals - educated within Switzerland or living locally - and numerous start-up labs and biotech research teams establishing themselves across the country.
It is also unsurprising that many growing companies in the pharmaceutical industry who are looking to expand internationally, choose Switzerland as the location for their sites including Hobson Prior, who have a team based in Basel. It is worth noting that, as with any international expansion, the customs, expectations and processes for recruitment within Switzerland can vary significantly.

"We see particularly with US pharma companies looking to build teams in Switzerland, they can come across difficulties with time differences and slight differences in processes that makes it difficult to secure top talent in a competitive market.

"With so much competition for strong candidates, we help them promote their career opportunities and navigate the local nuances of the typical Swiss recruitment process".
James Inwood – Client Services Manager at Hobson Prior



For more information on hiring life sciences professionals in Switzerland as part of an international expansion, you can contact our Swiss recruitment team, or read our case study following how a US company launches its Swiss office despite the time differences and different hiring culture.