Hobson Prior secures SECO labour license for Swiss interim recruitment

Hobson Prior secures SECO labour license for Swiss interim recruitment
Hobson Prior is pleased to have qualified for a SECO labour licence for interim recruitment. This will enable them to provide the Swiss life sciences industry with interim recruitment solutions, without the need for third-party payrolling companies.
Already holding a SECO recruitment license for permanent positions, Hobson Prior will be able to provide full-service recruitment solutions and wider candidates support for life sciences companies and job seekers within Switzerland.
Having recently moved their Switzerland based office from Luzern to Basel in 2019, Hobson Prior has over 10 years' experience working directly with Swiss-based companies, as well as companies looking to launch in Switzerland, with their hiring needs.
"By directly providing employed solutions for temporary workers, our clients have a simpler, single contact process for their interim workforce," comments Patrick Forster, Managing Director of Hobson Prior.

"Switzerland is a crucial hub in the global life sciences market and as one of the few specialists' recruiters focused on life sciences, we're excited to be able to provide even better recruitment solutions to our clients and better support to our Swiss-based interim workers".
Recognised as number one for global talent competitiveness, innovation and site selection by KPMG, Switzerland stands as one of the leading homes for biotechnology, medical devices, nanotechnology and pharma.
"We have a dedicated team specialising in Swiss life sciences recruitment services, covering various aspects of the sector, including regulatory affairs, clinical operations, biometrics and technical operations," adds European Client Services Manager James Inwood. "These consultants know the Swiss market, customs and recruitment processes. With recruitment consultants based in our Swiss office, we can provide dedicated support not only to our Swiss clients, but to candidates and companies looking to expand into the Swiss biotech and pharmaceutical markets."
"Switzerland is home to many ground-breaking companies and this new licence empowers us to connect them to our extensive network of talented life sciences professionals within commuting distance of their Swiss offices and even help with relocation support for those looking to move to Switzerland."
Switzerland is already home to major pharmaceutical companies and biotechnology innovators; it is no wonder there has been an increase in niche start up businesses driven from places such as the US market to make Switzerland a leading hub for global life sciences development and delivery.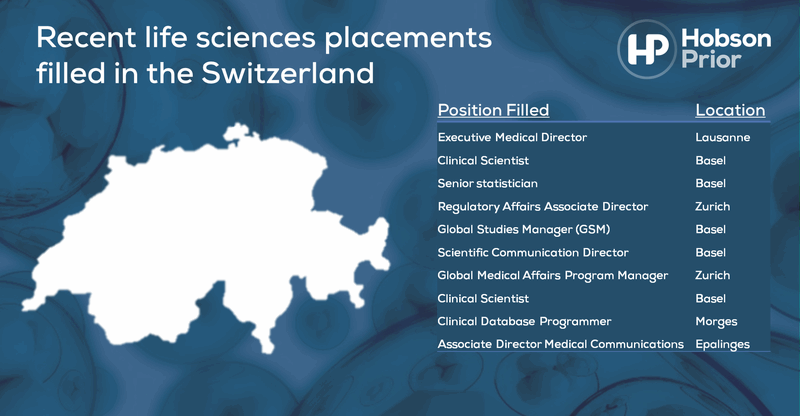 As experienced leaders within the Swiss life sciences recruitment market, Hobson Prior has been providing exceptional search and selection support to global leaders and upcoming businesses for over 12 years within Switzerland. This new license will empower them to continue to support the ground-breaking effort of pharma, biotech and med tech companies within Switzerland through expert recruitment services.
For more information about Hobson Prior's SECO license or Swiss recruitment solutions, please contact our Swiss team here: