Hobson Prior looks to the next 20 years with innovation themed rebrand

Wednesday 16th March 2022:

Today, life sciences recruitment specialists, Hobson Prior, unveiled a new forward-looking brand identity to mark the 20-year anniversary of the company.
The contemporary rebrand, themed around innovation, is the first event to mark the milestone anniversary for Hobson Prior and introduces an updated look, new set of values and brand proposition.
Patrick Forster, Managing Director of Hobson Prior comments:
"This is a very exciting time for our industry; we work with professionals in companies that are pioneering ground-breaking advancements in life sciences."
"With two decades of experience supporting the growth and hiring needs of the people working within these companies, we felt our brand needed a refresh to better represent Hobson Prior as we look to the next 20 years of innovation."
Hobson Prior focuses solely on recruitment in life sciences and delivers made-to-measure recruitment solutions for companies around the world within all sectors.
Since being founded in 2002, the company has expanded internationally, with offices in Ireland, South Africa and Switzerland and strives to deliver innovative and tailored recruitment solutions to connect emerging and blue-chip life sciences companies to specialised professionals.
Paul Strouts, CEO of Life Sciences at Acacium Group and Hobson Prior says:
"Hobson Prior's development over the last two decades has been incredibly impressive as they continue to expand their reach and solutions to address the challenges of the evolving life sciences industry. This rebrand is an exciting and promising step as Hobson Prior continues to empower innovation"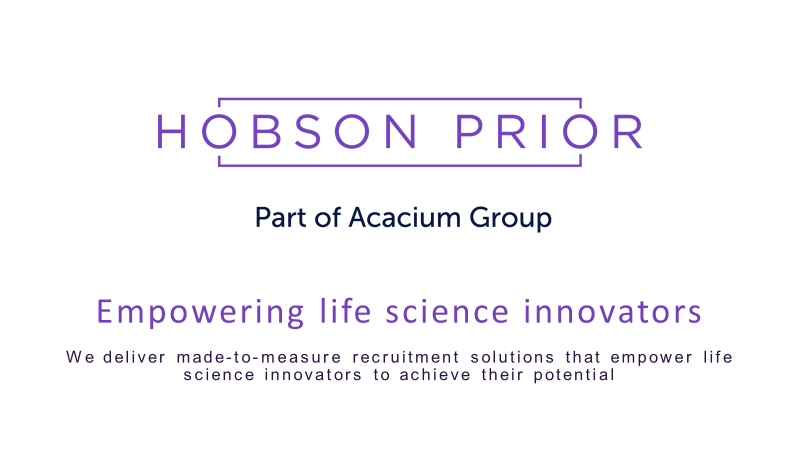 In addition to the visual aspects of the brand, Hobson Prior has refocused its brand proposition and values to better reflect its mission and unique relationship to support the people and companies within life sciences industry.
Vice President, Global Client Services, Elliot Tiffin says:
"The industry has evolved considerably over the last 20 years, as have we at Hobson Prior. Not just keeping up with the developments within the technical elements of the life sciences functions we specialise in, but also in understanding the changing needs and priorities of the organisations and professionals we work with."
"A core aspect of our relationship with the professionals we work with is listening and understanding their individual needs. These improved values better represent how Hobson Prior are continuing to evolve and works to empower those in our industry." "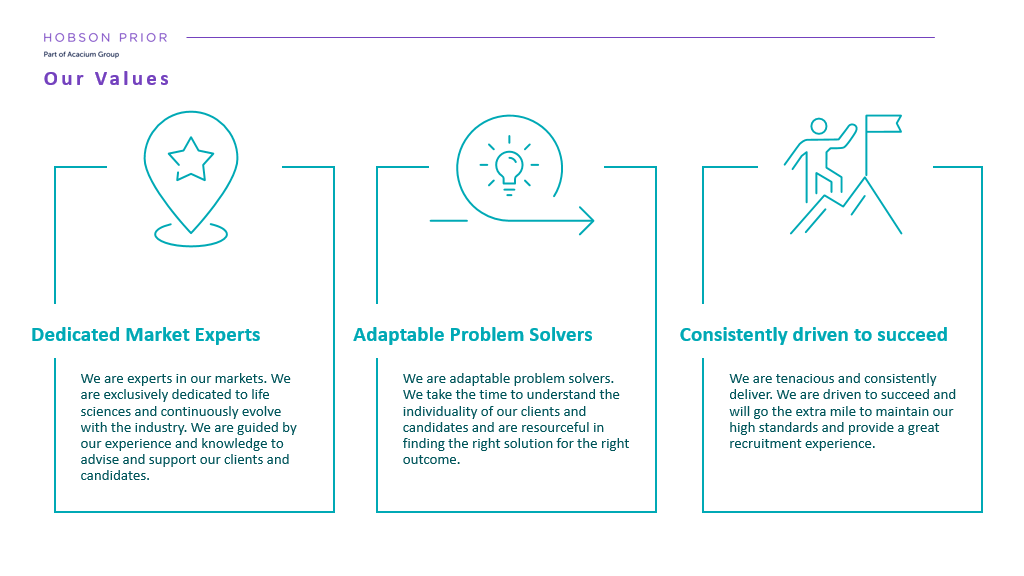 ABOUT HOBSON PRIOR
Hobson Prior delivers made-to-measure recruitment solutions that empower life science innovators to achieve their potential.
We recognise how building the right team allows your company to thrive and deliver products that make a difference in people's lives around the world. By taking the time to really understand your exact requirements, we can best represent you in the global market and source contract and permanent life sciences professionals who will contribute to your success.
For media enquiries: info@hobsonprior.com
For recruitment services enquiries: clientservices@hobsonprior.com