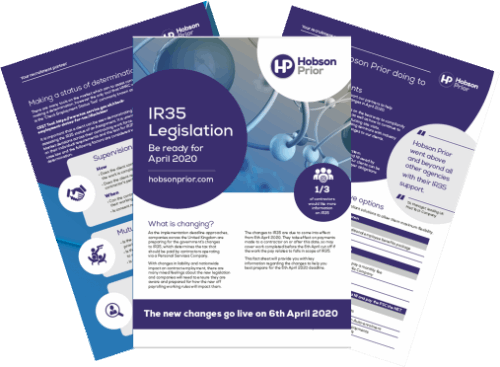 IR35 is changing
The changes to IR35 are set to have an impact across contract-based, interim employment within life sciences. There are mixed reviews regarding the implementation of the IR35 amendments and many contractors and clients sre still confused in how best to tackle their preparations for the changes.
56% of businesses do not feel prepared for the new rules regarding IR35
Are your prepared for IR35?
This fact sheet will provide you with key information regarding the changes to help you best prepare for the 6th April 2020 deadline, including:





• Overview of the core changes and the impacts



• Analysis of which parties are liable
• Guidance in making a status determination
• Your IR35 preparation checklist
• Support on developing your recruitment strategy
• As well as what Hobson Prior are doing to ease the transition